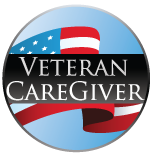 "We will all either be a Caregiver or
need a Caregiver someday"®
~ Linda Kreter
VeteranCaregiver.com is a peer-supported online portal to gain relevant, easy-to-access, and consumable "sound bites" of information to Caregivers who have limited time — but vast informational needs to best manage personal growth, energy, satisfying productivity, and quality of life. Click here to be redirected to VeteranCaregiver.com.
Through short videos, responses to questions, postings, radio podcasts, and resources, VeteranCaregiver provides support not only about caregiving, but also on improved communication, jhealth and wellness, navigating the military and civilian medical systems, and leadership growth opportunities for caregivers and families. Partnered with Veteran Warriors, we are able to tap specific networks for Caregiver Support and Toxic Exposure.
Resourceful families and those who learn healthy coping, communication, and advocacy skills find themselves better equipped for the next phase of their lives. We believe in the potential for Post-Traumatic Growth, and have seen more positive life outcomes resulting from military family members making a priority of learning, self-care, and positive perspectives. Happiness is a choice and we offer ways to make that choice more attainable.