Linda Kreter
Innovation | Leadership | Integrity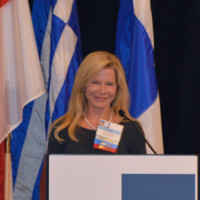 Linda Kreter is a business strategist and multimedia host (podcast, video, editor) available for contracting as a corporate trainer, staff development, leadership and team building coach, writer, speaker, and spokesperson for multiple industry sectors — especially those with stressors such as high-conflict situations, separation, isolation, communication challenges, combat, and emotional fitness. Linda is an SME for military and civilian family caregiver education and advocacy, non-profit and corporate leadership solutions, robust community outreach strategies, and collaborative networking solutions.
Attract new non-profit funding with guaranteed outreach, or showcase a corporate goal with specialty podcasts, short-message videos, PSA's, and strategic advertisements for messaging, sales, and outreach for specific communities: Women Over 40 (200,000,000) and Military Family Support (150,000,000), Family Caregivers (64,000,000), and specialty wellness programs for seafarers (1,500,000).
Optimal wellness affects performance, safety, mental/physical/emotion/spiritual fitness — learn how to maximize personal performance, quality communication, effective engagement, positive culture, and resilience and retention of high-value teams.